Pools
Not one, but two pools: in our hotel in Riva del Garda you will find an indoor pool, open all year round, and an outdoor pool, open from April to September.
The indoor pool of the Grand Hotel Liberty is heated to 30 degrees Celsius and features air hydro-massage loungers, counter-current jet, a vertical and a horizontal hydro-massage.
Around the pool, you will find comfortable loungers to rest, read a magazine, eat something quick or sip an herbal tea.
The outdoor pool is located in the middle of our garden, in a quiet area, accessible from the Beauty & Wellness or from the terrace of the hotel. Sun loungers and small shaded areas are also available in this area.
The Wellness Path
In our SPA you will find cabins equipped for your well-being: steam bath, sauna, Vitarium and experience showers.
Scopri uno ad uno gli spazi riservati al tuo benessere e goditi tutto il relax che una vacanza nel nostro hotel a Riva del Garda può offrirti.
Upon your arrival we will supply you with a bathrobe and towel, we kindly request that you bring your own slippers, which can otherwise be purchased from us at a cost of 3 euros.
For the use of sauna, steam bath and Vitarium, we recommend not to wear a costume (due to hygiene and perspiration) but rather to wear a towel.
Admission is granted from 9 am to 7.30 pm for adults and children aged 14 years and over.
Children under 14 years of age (if accompanied by a parent) are allowed to enter only from 9 am until 12 noon, in order to guarantee peace of mind for the other guests during the afternoon hours.
Admission to our Beauty & Wellness is always included in the room price.
Steam Bath
Thanks to a healthy combination of moisture and heat, the body relaxes and muscle tension generally eases.
The hot steam penetrates the tissues, increasing the blood circulation to all organs.
Vitarium
The solid warmth and mild steam, combined with natural essences, quiet, meditative music and monochrome lighting, stimulate the respiratory tract and the immune system.
The special interplay of coloured lights creates a particular positive biological effect on the entire body.
Sauna
The change of temperature, hot – cold, inside the sauna produces an enormous benefit to the organism as a whole; it provides energy, purifies the skin, helps to eliminate impurities and stimulates the heart and circulation.
Sensory Showers
Vertical, lateral, massaging water jets. The caress of the atomised particles, the light drizzle, the refreshing sensation of thick, continuous rain; aromatic rain, intoxicating scents and a stimulating interplay of light: all this makes our shower cubicles truly versatile, assured by the quality of Hofer.
Heated Bench
Once you have tried the heated bench, it is difficult to do without it:
the sensation of well-being and total relaxation is virtually unique. The heat envelops the body, rising progressively from the legs and back,
the muscles relax and the blood circulation is gently stimulated.
Fitness
50 m² of fitness area fully fitted with Technogym equipment and large mirrors to perfectly perform each exercise.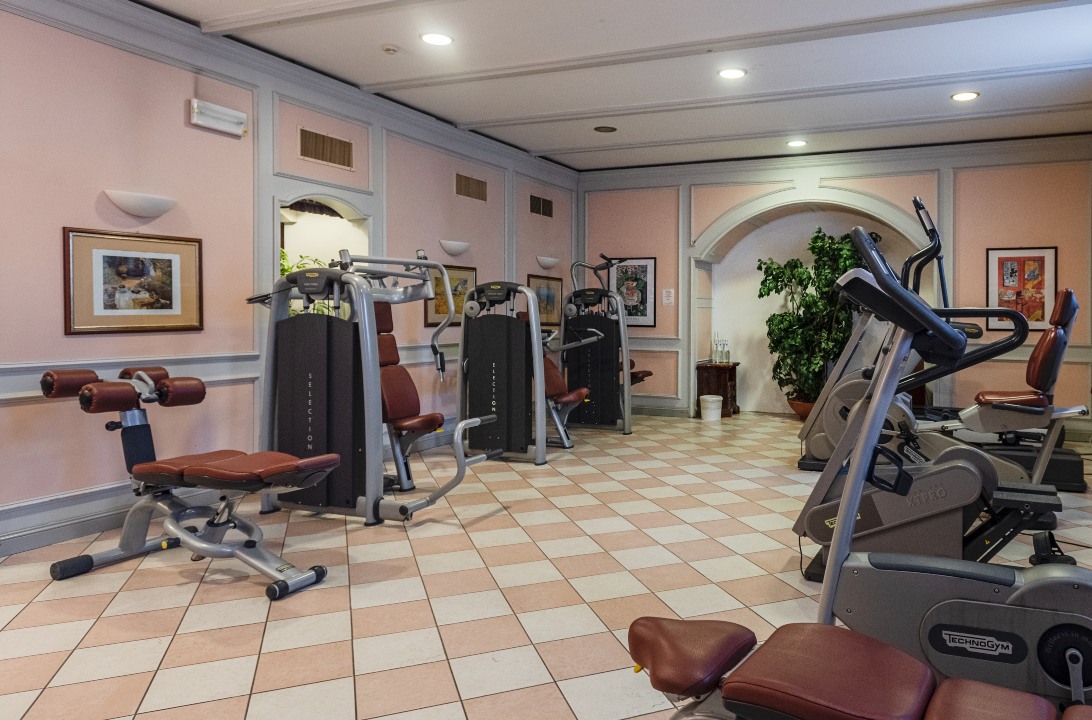 In the cardio area you will find treadmills, fitness bikes, reclining bikes, elliptical synchro and steppers, while in the fitness area the training equipment includes chest press, shoulder press, pulldown, flat bench press, crunch bench, lower bar bench, chromed bars and handlebars ranging from 1 to 10 kg and normal bars from 4 to 22 kg.
When booking you can request to be supported by a personal trainer, who will help you execute the movements perfectly with correct posture, in order to avoid unpleasant pain after training.
Info and Hours
Here you can find all the information about our wellness centre and gym in Riva del Garda: opening hours, and general rules.

Beauty Farm
Monday to Sunday :
9 am – 12 noon
3 pm – 7.30 pm
Treatments during lunch break may be available upon request.
Wellness Area
from 3 to 7.30 pm, every day of the week.

For entrance after 7.30 pm we recommend booking by telephone at + 39 0464550820.
Pool
from 9 am to 7.30 pm every day.
General rules within the Wellness area
In the sauna, steam bath and bio-sauna area it is compulsory to use only a towel and bathrobe
The use of slippers is compulsory in the Wellness Area (€ 3)
Bathrobe and towel are provided by Beauty and Wellness SPA
Access to the gym is permitted with sneakers and fitness apparel
Children under 14 years of age when accompanied by their parents can access only from 9 am to 12 noon
Please remember that the Wellness Area is for relaxation purposes, therefore an appropriate behaviour is required